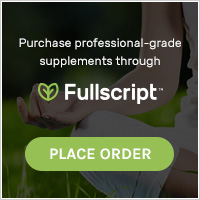 Dietary supplements are not regulated by the Food and Drug Administration and are not intended to diagnose, treat, cure or prevent any disease or illness. Please consult with your healthcare provider for information about quality, tested supplements and botanical products.
A code is required from Dr. McLaughlin to access products on these websites.
​





​*Naturopathic Doctors (NDs) are not currently licensed in the state of Texas as Medical Doctors or Doctors of Osteopathic Medicine (MD, DO), and the information on this website is not intended to diagnose, manage, or treat any disease or illness. Dr. Alana McLaughlin, ND, graduated from Bastyr University, an accredited naturopathic medical program, and maintains licensure as a Naturopathic Doctor in Alaska.